Congresswoman-elect Cori Bush of Missouri has brought thrifting back in vogue. "The reality of being a regular person going to Congress is that it's really expensive to get the business clothes I need for the Hill. So I'm going thrift shopping tomorrow," Bush tweeted last week. She later shared a trio of selfies amid the racks and snippets of a mini fashion show in the dressing room where she modeled her smashing finds—a maroon patterned blazer, a tangerine peacoat and a long violet trench.
True confession: Not only am I a loyal secondhand shopper, but two decades ago a friend and I opened our own brick-and-mortar swap shop. Dubbed "A Joint in the Family Way" by The New York Times in 2003, it was equal parts community haven and source for affordable clothing for kids. I spent my days buried in piles of other people's cast-offs, which inevitably were a proxy for story sharing and camaraderie. As quoted in the Times review, I often felt akin to a bartender. Thrifting is a highly communal experience for all who partake—a downright democratic phenomenon in many ways.
Which is partly why Bush's shopping saga and the viral response it generated were so moving to me. I have followed her political journey with much anticipation. The first Black woman elected to Congress from Missouri—breaking a 50-year Democratic dynasty hold on the seat she won—she is a Saint Louis native, mother, nurse, ordained pastor and activist who ran successfully on a platform of standing up and for Black lives. And now she is an emerging, high-profile member of Congress required to look like D.C. establishment two months before she even earns her first paycheck there.
By going public about this seemingly private detail—what to wear and how to afford and acquire it—Bush has sparked a vital conversation on the obstacles that can make it hard for working-class people, and especially women, to participate in politics.
For women candidates, the deck is stacked from the outset. According to the Pew Research Center, around three-quarters of women and 60 percent of men said it was easier for men to reach high political office. With their reliance on small donors to fuel their campaigns, women running have to work twice as hard to raise the funds needed (a successful U.S. House race costs on average $1.5 million). A recent report from the Brennan Center for Justice shows the problem is most acute for women of color.
When it comes to dressing the part, the raw and relative expense for women often skews higher than for men, too. As Bush notes in her tweets, the "pink tax"—aka gender-based pricing, a well-documented practice that was outlawed this year in New York state—is one such way women are penalized.
Of course, though, the costs borne by women on the campaign trail and in leadership amount to more than dollars and cents. Just ask Representative Alexandria Ocasio-Cortez of New York, who tweeted her own fashion bargain advice back to Bush. When Ocasio-Cortez was newly elected, she remarked about the pressure to look "a lot more expensive than what [she] can afford" and quipped that she's a "thrift shopping queen." Even so, she is widely critiqued for what she does and doesn't spend. Last year, a salon sighting set off a wave of headlines such as "Self-Declared Socialist AOC Splurges on High-Dollar Hairdo." (I wrote for Newsweek at the time to clarify: The grand total included $80 for the haircut and $180 for lowlights, plus tip.) Just last month, after she appeared on the cover of the October issue of Vanity Fair, the media pounced with a line-by-line costing out of the (borrowed) designer outfit she wore.
None of these ironies are lost on other women leaders, fellow members of the "Squad" first in line: Representatives Rashida Tlaib of Michigan, Ilhan Omar of Minnesota and Ayanna Pressley of Massachusetts each offered Bush their own clothing, makeup and accessory hacks. So did other lawmakers, thousands of followers and even fashion designers and retailers. Never one to miss a teachable policy moment, Ocasio-Cortez also elevated the environmental benefits of thrifting: "Good news is that all these practices are very sustainable and good for the planet!"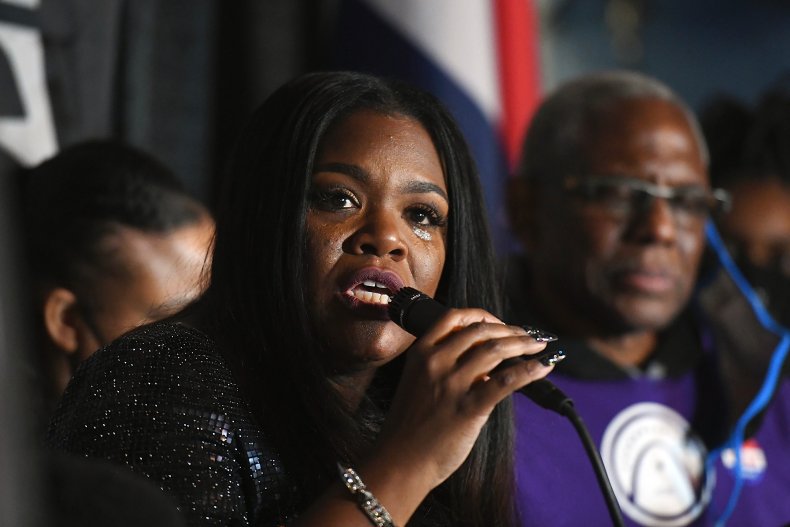 All in all, a mostly feel-good footnote in an overwhelming political season. But the exchange should simultaneously remind the rest of us to have the backs of the women who will serve in the 117th Congress starting in January—a record 141, according to the Center for American Women in Politics—and in local and state offices across the country. We owe at least that much to every one of them and to ourselves, the electorate, who deserve and demand full and fair representation, to help dismantle these most rudimentary of barriers.
Bush recently told reporters that America can expect her to remain true to herself as she commences her career in Congress: "If I want to put on my big dolphin earrings and show up, that's what I am going to wear." I can't wait to see those and wouldn't be surprised if they're a thrift treasure too.
Jennifer Weiss-Wolf is vice president and women and democracy fellow at the Brennan Center for Justice at NYU Law, as well as author of Periods Gone Public: Taking a Stand for Menstrual Equity.
The views expressed in this article are the author's own